The Edinburgh House School, Old Boys Web Site
Edinburgh House School
New Milton
Hampshire
England

My name is Robert Lawrence and I attended Edinburgh House School from 1959-1962.
I started this web site as I was having no luck finding other old boys from that time period. I recently added quite a few photographs and some other information (much of which is thanks to Ric Toovey). We have also had a few new people register on the database page. Any additional information would be much appreciated.
If you attended Edinburgh House at any time, feel free to register using the email address below. All names will be publicly listed with your contact information. Send me your memories and comments and the years you attended the school.
If anyone has any photos or other items that would be of interest please submit them and I will put them on the website.
---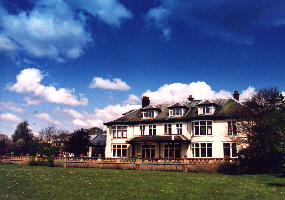 History of the School
The School house was built around the turn of the century by an American family called Ubsell. In 1914 they moved out and Great Ballard School began to use the building. Just after the start of the Second World War the army needed the building and the grounds, so Great Ballard School had to move out. That school is now at Eartham near Chichester.
Meanwhile, in 1895 a boys school was started in Lee on Solent. It was originally named The Royal Naval School. But, when the Royal Navy started their own school they asked the headmaster to rename it. The headmaster was a Scotsman and he chose to rename the school Edinburgh House.
During the Second World War the boys of Edinburgh House School were evacuated to the safety of the countryside. After the war, Edinburgh House School needed to relocate and because all the boys were boarders it didn't really matter where they went. When the headmaster Mr. Kefford came to Barton on Sea for a holiday he found that the army had departed, and Great Ballard School didn't want to return, so Mr. Kefford moved Edinburgh House School in.
Since then many changes have taken place. In the 1960's Edinburgh House School merged with Marchwood Park School and Gorsecliffe School. In 1995 the girls of neighboring Fernhill Manor School, which was then 75 years old, also merged, and the combined school was renamed Ballard School.
---
The school is now called Ballard School
Please register with the Ballard School Alumni Association
---
---
Contact Database
Register on the contact database
View the current contact database


---
Memories
Read Robert's memories of the school
I will add to this as things come to mind.
---
To contact Robert Lawrence, send email here
This page last updated March 30th 2017